Meeting your nutrition goals can be a challenge no matter what lifestyle you lead, and if you have chosen to follow a vegan lifestyle, there's an added level of difficulty when it comes to achieving the recommended daily value of key vitamins and minerals. While the vegan diet itself can promote a healthy lifestyle, certain nutrients aren't easy to incorporate without supplementation from vegan vitamins. 
Explore our full lineup of Vitamin D3 products from Vegan Life Nutrition.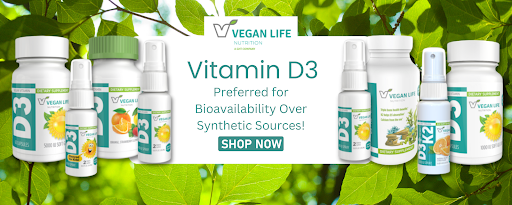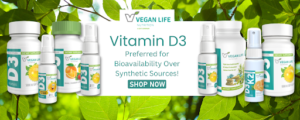 What Vitamins Are Best for Vegans?
The best vegan vitamins are the ones made with natural, sustainable, and clean ingredients proven to support things like calcium absorption, immune system health, white blood cell health, bone strength, and energy.
Vitamin D3 made with natural, sustainable, and clean raw ingredients
Vegans rely on Vitamin D3 for things like immune support, healthy calcium absorption, and maintaining bone strength. Plant-based vitamin D3 is preferred for bioavailability over Vitamin D2. 
One of the top products in the D3 line is our Synergistically Vegan supplement. We call it our "superhero supplement" because it contains a mix of vitamin D3, vitamin K2, and calcium – all 100% vegan. Vitamin K2 redirects Calcium to the bones for a D3-facilitated absorption process, maximizing the efficiency of the calcium to the bones.
Each of our Vitamin D3 supplements is made with Vitashine™, which is sourced from Lichen. 
Vitamin B12
Vitamin B12 can help support energy levels throughout your day, as well as healthy regulation of your nervous system and digestive system. 
Vitamin B12 is a water-soluble vitamin, meaning it can easily dissolve into the bloodstream and benefit your body without losing nutrients to the digestive system.  
Shop our raspberry chewable Vitamin B12 vitamins. 
Vitamin C
One of the most important things about vitamin C is that it helps the body absorb Iron. This is particularly important for vegans because plant-based foods don't always have the highest percentage of bioavailability. 
Vegan Life Nutrition's Pure Vitamin C works to:
Regenerate antioxidants in the body

Support a strong immune system

Encourage white blood cell health
Learn more about Pure Vitamin C.
While there are some of the vitamins that we recommend vegans supplement, it's important to check in with your doctor to ensure you're maintaining healthy nutrition with your diet and supplementation. 
Do Vegans Need a Multivitamin? 
When it comes to a vegan lifestyle, it's best to cover your bases. A good quality multivitamin can help bridge nutritional gaps in your diet without cluttering your cabinet. While Vegan Life Nutrition doesn't have a designated Vegan Multivitamin, we do have our Prenatal & Postnatal Focus Bundles.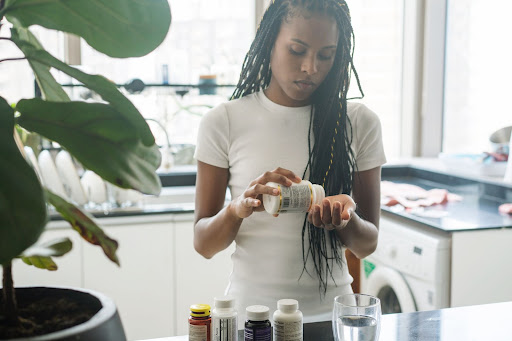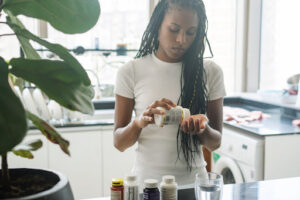 Yes, this is technically a product line for women to take before, during, and after pregnancy. However, these supplements can be taken as a comprehensive vegan multivitamin for anyone, as they contain 20+ essential vitamins and minerals, including: 
Vitamin A/Beta Carotene

Vitamin C/Ascorbic Acid

Vitamin D/Cholecalciferol

Vitamin E/d-Alpha Tocopherol

Vitamin K/Menaquinone K2-MK7

Thiamin/Thiamin Mononitrate

Riboflavin/Riboflavin Sodium Phosphate

Niacin/Niacinamide

Vitamin B6/Pyridoxal-5-Phosphate

Folate/(6s)-5-Methyltetrahydrofolic Acid, Glucosamine Salt

Vitamin B12/Methylcobalamin

Biotin/d-Biotin

Pantothenic Acid/d-Calcium Pantothenate

Calcium/Calcium Carbonate, Plant-Derived

Iron/Ferrous Bisglycinate Chelate

Iodine/Kelp Laminaria Digitata

Magnesium/Magnesium Chelate

Zinc/Zinc Bisglycinate Chelate

Selenium/Selenium Glycinate

Copper/Copper Bisglycinate Chelate

Manganese/Manganese Bisglycinatechelate

Chromium/Chromium Nicotinate Glycinate Chelate

Molybdenum/Molybdenum Glycinate Chelate
Vegan Vitamins
You Can Trust
Our vegan vitamins can help support your diet without compromising your lifestyle, restrictions, and preferences. They are all non-GMO, certified gluten-free, and 100% vegan so you get the cleanest ingredients on the market.
Our products are always free of toxins, allergens, and unnecessary ingredients. How? We strictly examine raw ingredients and fully vet each final product. Quality is our top consideration, and we adhere to the guidelines of some of the toughest regulatory authorities in the world.
Discover our trustworthy vegan supplements.
Vegan Life Nutrition
Visit our website to shop all of our vegan vitamins and learn about Vegan Life Nutrition.