Here at Vegan Life Nutrition, we eat, sleep and breathe supplements because we understand how critical it is for our bodies to get essential vitamins and minerals every day. One of those very important vitamins is Vitamin C. While it can be found in many foods, we have to be intentional about achieving the minimum Recommended Dietary Allowance (RDA) of 90 mg daily for men and 75 mg for women – which isn't easy to achieve by diet alone. This is where our 100% vegan Pure Vitamin C supplement comes to the rescue.


The Importance of Vitamin C
Why do we need Vitamin C each day? Think of your Vitamin C supplement as your immune system's support staff. The vitamin is an antioxidant that works to fortify your immune system (which is important considering all the free radicals our systems are exposed to on a daily basis) and helps your body absorb and store iron. 
It also is an essential nutrient your body needs in order to form blood vessels, cartilage, muscle, and collagen in bones. This is why women who are pregnant and breastfeeding need to be particularly intentional about consuming the appropriate amount of Vitamin C. 
We don't naturally produce Vitamin C in our bodies, so incorporating it into our diet and supplement routine is critical. You can find Vitamin C in foods like citrus fruits, berries, potatoes, tomatoes, peppers, cabbage, Brussels sprouts, broccoli, and spinach, but we recommend that you err on the side of caution and take our daily Vitamin C supplement to ensure you intake the RDA.
Supplements Can Help You Reach Your RDA
It's difficult to rely on your diet alone to accommodate your nutritional needs for many reasons. 
Nutrient-Depleted Soil
Studies show that there has been a steady decline in food nutrient content over the last 70 years. This is likely due to industrialized agriculture and the resulting soil degradation. While there are still foods with high Vitamin C content, it's hard to accurately measure if you're reaching your RDA just from produce alone.
Life is Busy
We don't have time to stress about the percentages of certain vitamins and minerals in each meal we eat – especially when we're on the go, going out to eat, or just living life without a food scale.
Implementing supplements into our daily routine takes seconds, and then we don't have to worry if we are reaching our nutritional goals for the rest of the day. While it's always important to maintain a healthy diet that serves our bodies well, adding a supplement is the next step in ensuring your systems have the nutrients they need to thrive.
Vegan
Vitamin C Supplemen
t From Vegan Life Nutrition
Pure Vitamin C is one of our most popular products for a very good reason. It provides a super dose of our specially-formulated Vitamin C that works to regenerate antioxidants in the body, promote a strong immune system, and support white blood cell health.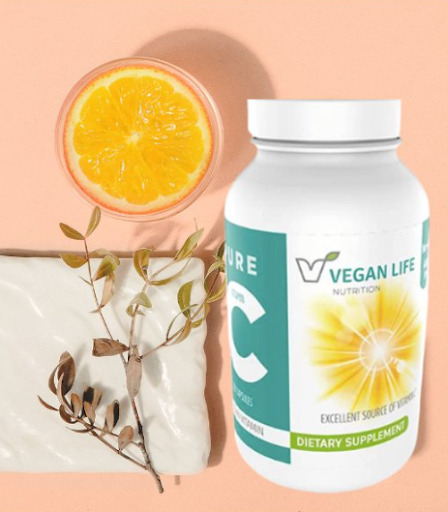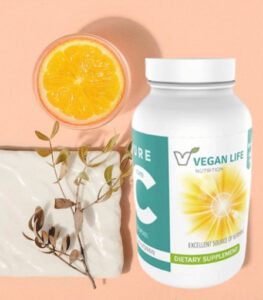 Each capsule contains 500mgs of Vitamin C which is 550% of the RDA. Our Vitamin C is 100% vegan, non-GMO, cruelty-free, gluten-free, and free of artificial colors. 
Learn more about our vegan supplements.
Shop Vegan Life Nutrition on Amazon
To purchase our Vitamin C supplement, check out our Amazon storefront. You can shop our full line of products, and Amazon Prime members can get free shipping! You can also learn more about Vegan Life Nutrition on our website.