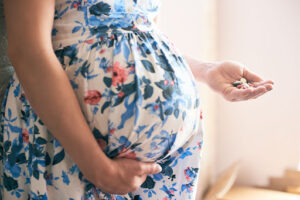 One of the most important things you can do if you are pregnant or trying to conceive is to start taking supplements packed with essential vitamins and minerals to support yours and the baby's health. This is particularly true of mothers who follow a vegan lifestyle, which is why we developed 100% vegan prenatal vitamins – Shop here.
Why Take Vegan Prenatal Vitamins?
When you become pregnant, your nutritional needs change. According to the American College of Obstetrics and Gynecology, a daily prenatal vitamin is the best way to fill any gaps that you may have in your diet. While most vegans are very conscious about what they eat, it's easy to miss out on some vital nutrients when relying on diet alone. You aren't just eating for two when you're pregnant, you're eating to replenish the resources that your baby depletes as they are developing. Vegan prenatal vitamins are an easy way to support you and your baby no matter your diet or lifestyle.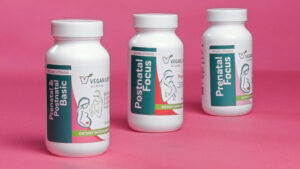 Vitamins Included in the Prenatal Focus Bundle
Vegan Life Nutrition's Prenatal Focus Bundle includes the following vitamins and minerals in our Prenatal/Postnatal Basic product, as well as 550mgs of Choline per serving in our "Prenatal Focus" product: 

Vitamin A (beta carotene)

Vitamin C (ascorbic acid)

Vitamin D (cholecalciferol)

Vitamin E (d-alpha tocopherol)

Vitamin K (menaquinone K2-MK7)

Thiamin (thiamin mononitrate)

Riboflavin (riboflavin sodium phosphate)

Niacin (niacinamide)

Vitamin B6 (pyridoxal-5-phosphate)

Folate ((6s)-5-methyltetrahydrofolic acid, glucosamine salt)

Vitamin B12 (methlycobalamin)

Biotin (d-biotin)

Pantothenic Acid (d-calcium panthothenate)

Calcium (calcium carbonate, plant-derived)

Iron (ferrous bisglycinate chelate)

Iodine (kelp, laminaria digitata)

Magnesium (magnesium chelate)

Zinc (zinc bisglycinate chelate)

Selenium (selenium glycinate)

Copper (copper bisglycinate chelate)

Manganese (manganese bisglycinate chelate)

Chromium (chromium nicotinate glycinate chelate)

Molybdenum (molybdenum glycinate chelate)



Learn more about why you need these essential supplements during pregnancy.
Prenatal Vitamins for Every Mom
Our main objective when developing the Prenatal Focus Bundle a vegan prenatal vitamin that could provide essential vitamins for vegan, vegetarian, and non-plant-based moms alike.
These supplements were design to help mom and baby maintain healthy digestion, promote healthy fetal cell division and development, support fetal brain, spinal cord, heart, muscle, bone, nerve, and skin development, and promote healthy placenta growth and red blood cell development. *
To discover more about how you can support your health during a vegan pregnancy, check out this blog.
Vegan Life Nutrition
Vegan Life Nutrition offers more than prenatal and postnatal supplements. Discover our full line of vegan products on our website.
*These statements have not been evaluated by the Food and Drug Administration. These products are not intended to diagnose, treat, cure or prevent any disease.