In the months following birth, your body is working to repair and replenish the resources that are depleted during pregnancy. Taking a postnatal vitamin is essential to the health of mothers and breastfed babies and it's especially important for mothers who follow a vegan lifestyle. We developed a 100% vegan postnatal vitamin to support the recovery and health of postpartum moms – shop here.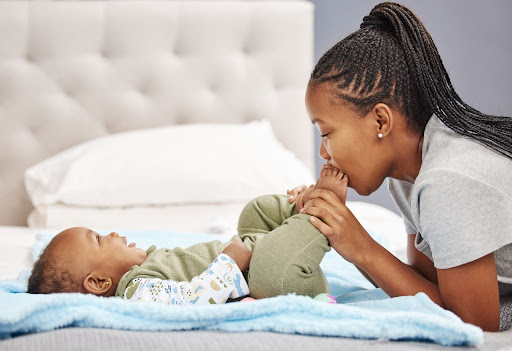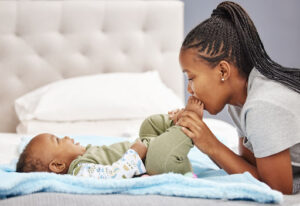 The Benefits of
Vegan Postnatal Vitamins
It's no secret that the key to a healthy vegan life is supplementation. We can get all kinds of nutrients from the foods we eat, but vegan supplements can help make up for the nutritional gaps that occur when we cut out animal products. When it comes to life after pregnancy, a high-quality vegan postnatal vitamin not only provides key nutrients that new moms struggle to get, but also can assist with things like supporting milk supply, energy levels, and recovery following childbirth. 
Vitamins Included in the Postnatal Focus Bundle
The Postnatal Focus Bundle from Vegan Life Nutrition has over 20 vitamins and minerals curated specifically for postnatal mothers. 
Vitamin A (beta carotene)

Vitamin C (ascorbic acid)

Vitamin D (cholecalciferol)

Vitamin E (d-alpha tocopherol)

Vitamin K (menaquinone K2-MK7)

Thiamin (thiamin mononitrate)

Riboflavin (riboflavin sodium phosphate)

Niacin (niacinamide)

Vitamin B6 (pyridoxal-5-phosphate)

Folate 

Vitamin B12 (methlycobalamin)

Biotin (d-biotin)

 Pantothenic Acid (d-calcium panthothenate)

Calcium (calcium carbonate, plant-derived)

Iron (ferrous bisglycinate chelate)

Iodine (kelp, laminaria digitata)

Magnesium (magnesium chelate)

Zinc (zinc bisglycinate chelate)

Selenium (selenium glycinate)

Copper (copper bisglycinate chelate)

Manganese (manganese bisglycinate chelate)

Chromium (chromium nicotinate glycinate chelate)

Molybdenum (molybdenum glycinate chelate)



The bundle also comes with additional servings of Vitamin D, Thiamin, Riboflavin, Niacin, and Folate. A special addition just for our vegan postnatal vitamin is 475mg of Choline. 
You can learn more about our Postnatal Focus Bundle here. 
Postnatal Vitamins Support Both Mom and Baby*
There are several ways that our postnatal supplement supports both mom and baby. Along with aiding in the maintenance of healthy digestion, the supplement also works to promote healthy red blood cell development.
It's typically recommended that mothers should take postnatal vitamins for at least 6 months postpartum, but we always recommend that you speak directly with your doctor before taking supplements of any kind during and after pregnancy. Discover more about the important timeline for postnatal vitamins in this blog.
Vegan Life Nutrition
Learn more about our Postnatal Focus Bundle and our Prenatal Focus Bundle of the Vegan Life Nutrition website. You can also shop our full line of vegan supplements here. 
*These statements have not been evaluated by the Food and Drug Administration. These products are not intended to diagnose, treat, cure or prevent any disease.