If you live a vegan lifestyle, you understand the importance of providing your body with essential nutrients. Consuming enough vitamin and mineral-rich foods to properly support the body can be a challenge for all vegans, but especially for those who are vegan and pregnant.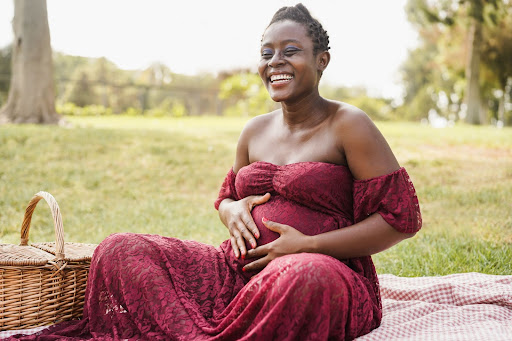 For this reason, we at Vegan Life Nutrition, recommend supplementing those vital vitamins and minerals to support the mom's health as well as fetal and newborn development throughout pregnancy and postpartum. 
Is it Safe to be Vegan While Pregnant?
The short answer to this question is: yes, vegan women have perfectly healthy pregnancies all the time. That being said, a typical vegan diet makes it more difficult to get the recommended daily value (RDV) of essential vitamins to support healthy pregnancy and postpartum nutrient intake. 
When you're pregnant, your nutrients are depleted very quickly because you're providing for your growing baby. The mother's body will focus first on sending nutrients to the growing fetus before nurturing itself. Because of this, there is a heavy emphasis on tracking vitamin and mineral intake while pregnant, especially for vegan moms-to-be.
This can be exceptionally difficult for vegan moms, as many of the essential nutrients for prenatal and postnatal health are most commonly found in animal products like meat and dairy. 
Vitamins You Need When You're
Vegan and Pregnant
There are several vitamins and minerals that women should be tracking while pregnant, including:
H3: Iron
According to Modern Fertility, the non-heme iron that comes from plant-based sources is 50% as effective as iron that comes from animal sources. This means that vegans roughly need to consume twice as much iron as non-vegans to achieve the same benefits. 
During pregnancy, your blood volume increases by 50% on average to support the transfer of oxygen and nutrients across the placenta. It can be difficult to support this increase in blood volume just by eating iron-rich foods, especially for vegan women. This is why we recommend prenatal supplements with iron to make sure moms-to-be get their RDV. 
Zinc
Zinc plays an integral role in pregnancy as it aids in things like:
Mom's Estrogen and Progesterone Production

Baby's DNA Synthesis and Cell Division

Formation of Baby's Senses like Taste, Touch, and Smell
Unfortunately, zinc has limited bioavailability, meaning that, when ingested, only a small portion of the zinc is absorbed into the bloodstream, leaving the rest to flush itself out. This is particularly true of plant-based zinc sources, meaning that vegan women need to ingest more zinc than non-vegans during pregnancy. 
Choline
Choline is a Vitamin B-like nutrient that is essential for fetal neurological and nervous system development. Choline is found most prominently in eggs and liver, so supplementation from a vegan source is necessary to ensure vegan moms are getting the adequate amount beyond their diet.
Vitamin B12
Getting a daily dose of B12 is not a concern for most omnivorous eaters, since animal products are typically rich in the vitamin. However, deficiency is a significant concern among vegans. 
A Vitamin B12 deficiency during pregnancy can lead to weakness, fainting, nausea and even birth defects. Because of this, The American College of Obstetricians and Gynecologists (ACOG) recommends that all vegans take B12 supplements during pregnancy to achieve the recommended intake of at least 2.6 mcg per day. 
Vitamin D 
Deficiencies in Vitamin D are not unique to vegans. Most people, especially those living in the Northern Hemisphere, don't get enough Vitamin D from their diet and sunlight exposure. Without sufficient Vitamin D during pregnancy, things like the development of bones, immune system support, and even blood sugar regulation could be compromised. 
A well-rounded vegan prenatal and postnatal supplement that includes these nutrients and more is typically recommended to support the health of mother and baby. It is always important to consult with an OB/GYN first before taking any supplements while trying to conceive, pregnant, and breastfeeding.
Vegan Life Nutrition has developed comprehensive Prenatal and Postnatal Supplement Bundles to take the guesswork out of taking your vitamins while you're vegan and pregnant. 
Prenatal and Postnatal Vitamins from Vegan Life Nutrition
This month, Vegan Life Nutrition is releasing the Prenatal Focus Bundle and the Postnatal Focus Bundle to provide 20+ essential vitamins and minerals for before, during, and after pregnancy, including: 
Vitamin A (beta carotene)

Vitamin C (ascorbic acid)

Vitamin D (cholecalciferol)

Vitamin E (d-alpha-tocopherol)

Vitamin K (menaquinone K2-MK7) 

Thiamin (thiamin mononitrate) 

Riboflavin (riboflavin sodium phosphate) 

Niacin (niacinamide)

Vitamin B6 (pyridoxal-5-phosphate)

Folate ((6s)-5-methyltetrahydrofolic acid, glucosamine salt) 

Vitamin B12 (methylcobalamin)

Biotin (d-biotin)

Pantothenic Acid (d-calcium pantothenate)

Calcium (calcium carbonate, plant-derived)

Iron (ferrous bisglycinate chelate)

Iodine (kelp, laminaria digitata)

Magnesium (magnesium chelate)

Zinc (zinc bisglycinate chelate)

Selenium (selenium glycinate)

Copper (copper bisglycinate chelate) Manganese (manganese bisglycinatechelate)

Chromium (chromium nicotinate glycinate chelate) 

Molybdenum (molybdenum glycinate chelate)

Choline
The Prenatal Focus Bundle and Postnatal Focus Bundle are 100% vegan, gluten-free, non-GMO, cruelty-free, and free of artificial colors. To learn more about our new Bundles, check out this blog. 
Here at Vegan Life Nutrition, we are dedicated to providing a complete line of  nutritional supplements for everyone – including vegan moms. Discover our complete line of clean, high quality, plant-based products.