There is a lot of excitement, anticipation, and nerves at the beginning of your pregnancy journey –  especially for first-time moms. However, pregnancy comes with an immense amount of social pressure to behave "perfectly." You have a thousand different sources telling you that you have to eat certain foods, exercise in a precise way, and even what kind of music you should listen to. The truth is that each pregnancy is different, and what's best for you is between you and your OBGYN. One thing that almost all pregnancy professionals agree on, however, is that moms should take high-quality prenatal vitamins before and during pregnancy.  


Prenatal Vitamins
for All Moms
When searching for the best prenatal vitamins, what do you look for? The search can be overwhelming when you consider what vitamins and minerals need to be present, how these nutrients are sourced, and if you have any dietary restrictions. 
Vegan Life Nutrition has developed a Prenatal Focus Bundle built for moms of all lifestyles. While Vegan Life Nutrition addressed some nutritional gaps found in vegan diets, this product was created so that all women who are trying to conceive or are pregnant have a well-rounded prenatal vitamin that not only meets their own essential nutrient needs but also provides nutritional support for their baby. 
President and CEO of Vegan Life Nutrition's parent company, The GHT Companies, Jim Rex, says, "We developed this product based on the guidance of fertility specialists to deliver a comprehensive prenatal and postnatal program." 
Essential Vitamins Before and During Pregnancy
To take the guesswork out of your search for the best prenatal supplements, The American College of Obstetrics and Gynecology(ACOG) has a list of which vitamins and minerals are necessary and recommended for prenatal supplements. The Prenatal Focus Bundle has over 20 vitamins and minerals, and here are some of the highlights: 
Folate
Folate is the natural form of folic acid and can be found in leafy green foods. You should consume 400 micrograms of folate every day before you are pregnant until 12 weeks into the pregnancy. 
Choline
Choline has numerous benefits for the baby, including its integral role in cell structure, DNA synthesis, and supporting a healthy nervous system. 
Calcium
Like most nutrients that you consume while pregnant, Calcium will go to your baby first, whether you supplement it or not. If you're not replacing what you're giving away, you could end up with symptoms of calcium deficiency. Calcium supports both your and your baby's heart, muscles, nerves, bones/bone development, and hormones.
Vitamin D
Vitamin D works to regulate the amount of Calcium and phosphate in the body, which are needed to keep bones, teeth, and muscles healthy. It's recommended that you consume at least 10 micrograms of vitamin D each day, especially if you are pregnant during winter months or aren't able to spend time in the sun regularly. 
Learn more about the benefits of choline in your prenatal vitamins.
More Nutrients Than Other Prenatal Vitamins on the Market
You will be hard-pressed to find a more comprehensive prenatal supplement on the market. In the product development phase, Vegan Life Nutrition used the Recommended Daily Input (RDI) for each ingredient, ensuring that each dose provides the most nutrients possible to help you meet your nutritional needs every day.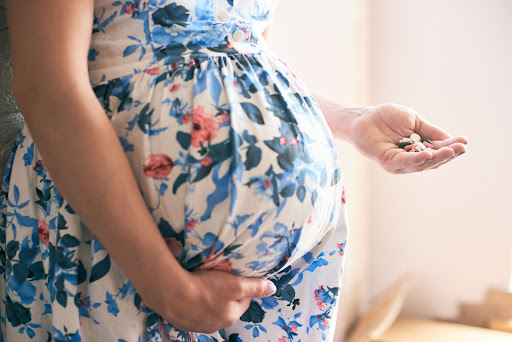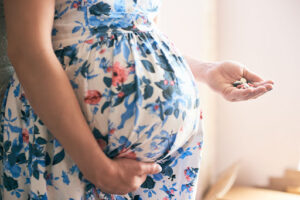 Each Prenatal Bundle comes with a bottle of Prenatal Basic which includes the 20+ essential prenatal vitamins and minerals that you need every day before and during pregnancy, and a bottle of Prenatal Focus which provides an extra 550mgs of Choline per serving for optimal fetal care.
Here is a comprehensive list of all of the vitamins and minerals you will find in the Prenatal Focus Bundle: 
Vitamin A/Beta Carotene

Vitamin C/Ascorbic Acid

Vitamin D/Cholecalciferol

Vitamin E/d-Alpha Tocopherol

Vitamin K/Menaquinone K2-MK7

Thiamin/Thiamin Mononitrate

Riboflavin/Riboflavin Sodium Phosphate

Niacin/Niacinamide

Vitamin B6/Pyridoxal-5-Phosphate

Folate/(6s)-5-Methyltetrahydrofolic Acid, Glucosamine Salt

Vitamin B12/Methylcobalamin

Biotin/d-Biotin

Pantothenic Acid/d-Calcium Pantothenate

Calcium/Calcium Carbonate, Plant-Derived

Iron/Ferrous Bisglycinate Chelate

Iodine/Kelp Laminaria Digitata

Magnesium/Magnesium Chelate

Zinc/Zinc Bisglycinate Chelate

Selenium/Selenium Glycinate

Copper/Copper Bisglycinate Chelate

Manganese/Manganese Bisglycinatechelate

Chromium/Chromium Nicotinate Glycinate Chelate

Molybdenum/Molybdenum Glycinate Chelate
Prenatal Focus Bundle From Vegan Life Nutrition
Within each bottle of the Prenatal Focus Bundle, you'll find the nutrients to support: 
Healthy digestion *

Healthy cell division and development *

Fetal brain, spinal cord, heart, muscle, bone, nerve, and skin development *

Placenta growth *

Red blood cell development *
Shop our comprehensive prenatal vitamins on our website or on Amazon.
* These statements have not been evaluated by the Food and Drug Administration. This product is not intended to diagnose, treat, cure, or prevent any disease.