We are always inspired by our vegan friends who work towards bettering all aspects of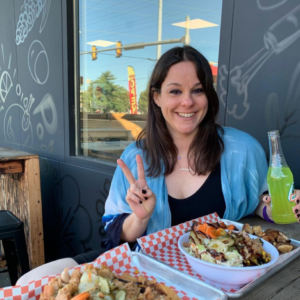 their lives on top of improving their nutrition.
We'd like to introduce you to someone who does a little bit of everything in her vegan journey to ensure proper mental, physical and nutritional health. Meet plant-based nutritionist, mental health therapist, yoga teacher, activist, content creator and mother, Lauryn, whose life is anything but simple.
She does it all!
We were inspired by Lauryn after we discovered her informative (and funny) Instagram videos on Instagram. We were amazed by her ability to find a balance between work and fun, and we applaud her for always being so positive. Lauryn uses Instagram to educate other vegans and non-vegans about the benefits of going plant-based through videos as well as hosting Zoom presentations. In one of her most recent presentations, she discussed the benefits of eating plant-based for good mental, emotional and physical health. Lauryn says, "Our food choices have a profound effect on how we feel not only physically, but mentally, emotionally, and psychologically as well. Studies have shown a plant-based diet can positively impact feelings of anxiety, depression and fatigue." 
By posting recipes on her Instagram account and providing others with nutritional advice, she is able to show that living a vegan lifestyle is attainable and desirable. To Lauryn, food consumption is a very crucial part of maintaining a healthy lifestyle. She says, "Food is the consumption of calories into energy, no matter how you look at it." 
Lauryn's goal is to change the way that we look at food consumption because "as a human race, we need to change that. Our survival depends on it." She has many favorite vegan dishes, but her favorite is mac and cheese; she assures us that she can make a mean mac and cheese, and we believe it! Her number one snack tip is dates stuffed with nut butter and vegan chocolate chips. 
We are going to be sure to give that one a try as soon as possible.
Mom Life
Lauryn switched to a vegan lifestyle after experiencing aches and pains throughout her body. Her husband was also having high blood pressure, high cholesterol & was pre-diabetic. The two decided to make the change together. After switching to a vegan diet, they both noticed a huge shift in their health. Lauryn's aches and pains were gone, and all of her husband's bloodwork came back in range, showing that he is in better health.
Lauryn's children were a major reason why she decided to actively begin avoiding foods containing animal byproducts. She said that she continued to see studies about the benefits of being vegan for the planet. "I feel the need to fight every single day to make change for a viable future for my boys." 
She loved her dramatic health change, and she celebrated it by pursuing her certification in plant-based nutrition.
Because Lauryn is the chef in her household, her husband and kids also live a vegan lifestyle. She jokingly told Vegan Life Nutrition, "They have no choice because I'm the cook!" 
The whole family enjoys eating vegan, and they all love the way they feel after they eat. Her husband also always goes back for second helpings! She said that sometimes it's hard at school for her children because she can not be there to monitor what they eat; she always makes sure to send them with their own snacks and treats. Lauryn is also a nursing vegan mother and says that the baby is easy because he has never had exposure to meat, dairy or eggs. 
Last words of wisdom
Like most of our other vegan friends, Lauryn's only regret is that she wishes she had learned what she knows now sooner in her life. She does not beat herself up over having become vegan later in adulthood, and she tries to let go of the decisions she made in the past. That's what your vegan journey is all about: growth! She says, "how we live each day when we know better is what really matters."  
Two things that Lauryn wishes that her fellow vegan friends had better knowledge of are finding more vegan friends and the importance of B12 supplements, which she believes that every vegan should be taking. We have solutions to both of these! Our selection of supplements is designed to aid you in your vegan journey. We also invite you to check out our Instagram and our other vegan journeys to meet other like-minded vegan friends.
Vegan Life Nutrition is proud to be a part of so many vegan journeys.  We don't sacrifice quality for innovation. Our products are always free of toxins, allergens, and unnecessary ingredients. How? We strictly examine raw ingredients and fully-vet each final product. Quality is our top consideration, and we adhere to the guidelines of some of the toughest regulatory authorities in the world.
Would you like to share your Vegan Journey with us?  Provide your contact information below, and we will reach out to you.