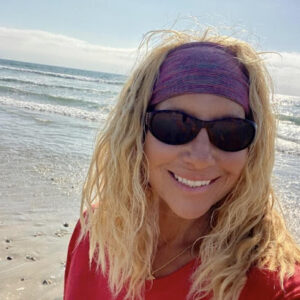 Vegan Life Nutrition is all about the vegan wellness journey and making sure the right vitamins and supplements are helping protect your body and giving you optimum health.
We'd like to introduce you to a woman who has been on quite the adventure to find her vegan journey.
Diane Yen grew up in Los Angeles and moved to San Diego shortly after college. She then moved to Japan for 5 years and to Chicago for 2 but eventually made her way back to San Diego. She just couldn't stay away from the beach! 
It wasn't until after she married her high school sweetheart and moved to Japan that she transitioned to a plant-based lifestyle. 
Living in Japan
Her vegan journey, like many, started as a vegetarian.  It was 1993 in Japan, and her husband was lactose intolerant and couldn't eat dairy.  Between him giving up dairy and her giving up meat, they were almost an entirely plant-based home. 
For Diane, the switch was easy.  She told Vegan Life Nutrition, "Japan has the best tofu." 
Smartphones didn't exist in 1993, so learning new information about Japanese culture was not as simple as it is now.  But, she did her best to learn the necessary Kanji and Japanese phrases. She says that living in Japan also introduced her to many new vegetables and helped her really learn to love fresh vegetables. 
No Need for Meat
Diane is incredibly passionate about health, the environment, and animal cruelty and credits these three things to be what inspires her daily. In her eyes, becoming vegan was the best choice for herself, for others and the environment. It's a decision that she cherishes. She is a huge advocate for informing others that they don't need meat in their diet to survive and can find substitutes that taste just as good without causing harm. "Plants have protein!" 
She even had two healthy pregnancies while on a plant-based diet and exclusively nursed both of her children. Diane's son and daughter both live out of state. She says she misses them a lot, but it is nice to know that they are still making ethical food choices while being on their own.  Although she dreams of a world that is all vegan, she says she is not the vegan police, and she herself is not perfect. She herself tries her very best to live a life that isn't harmful to herself or to others. 
One thing she finds to be difficult about being vegan is that there are still some restaurants that do not offer vegan options. However, she is thankful that many of them do. The vegan industry has also come a very long way, which excites her and gives her hope for the future. 
We can imagine that there are many more vegan options to choose from than there were in 1993. "We only had soy milk, TVP, and cardboard veggie burgers! We typically gravitated to Asian food. Tofu for the win!" 
Her favorite vegan meal is a rice bowl with teriyaki tofu and roasted veggies. We see that even after all these years, Japan still has a large influence on her lifestyle choices. Other vegan meals that she enjoys are a savory breakfast for dinner with a tofu scramble with avocado toast and lots of veggies. She is also a lover of matcha lattes with almond milk and can't resist a good plant-based ice cream.  
Advice for Vegans
Because Diane has been vegan for such a long time, she definitely has vast knowledge on the topic and a great deal of advice to give. She says one way that she helps share advice throughout the vegan community is by constantly recommending restaurants and new products to try and spark interest, as well as inform others of just how many options there are for vegans. She also helps by providing the vegan community information about greenhouse gases, zoonotic diseases, pandemics, heart disease, slaughterhouses, and many other important topics.  However, she does so cautiously so as not to turn people away from the idea of being vegan or to scare them. She thinks that the best way to turn people onto switching to a plant-based lifestyle is with kindness. 
Diane wants everyone considering a vegan diet to keep in mind that plants have protein and that animals are not the only source of getting it. She says that there is a very common misconception that plants cannot provide the body with the right nutrients or enough protein, which she says is just not true. The best advice she has for anyone looking to switch to being vegan is, "It's OK to start small. Allow yourself to progress. Try things out. See what's important to you. If it's important to you, you will be motivated to find a way to make it work."
Vegan Life Nutrition is proud to be a part of so many vegan journeys.  We don't sacrifice quality for innovation. Our products are always free of toxins, allergens, and unnecessary ingredients. How? We strictly examine raw ingredients and fully-vet each final product. Quality is our top consideration, and we adhere to the guidelines of some of the toughest regulatory authorities in the world.
Would you like to share your Vegan Journey with us?  Provide your contact information below, and we will reach out to you.