We believe everyone should have access to all-natural supplements to support their lifestyle. It's especially important to us that we provide the vegan community with the option of plant-based supplements to help support their vegan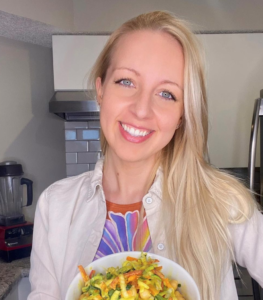 journey. We would like to introduce you to someone who has been a big inspiration to the vegan community.
Stefanie Stevens just moved to Denver from Los Angeles and originally grew up in Ohio. As many of us know, being vegan is different for everyone, especially based on where you live. Some locations do not offer nearly as many vegan options as others. For instance, we are sure that the vegan choices are quite different in Ohio compared to Los Angeles. Stefanie shows her followers just how to navigate life as a vegan through her vegan brand, 'Life Veganized.' She enjoys sharing vegan recipes, recommendations, tips and advice with other vegans and those who wish to become vegan.
Becoming 'Life Veganized'
Stefanie began her vegan journey in 2009 after being vegetarian for a year and a half. Eating animals never felt right to her, morally or nutritionally. In the beginning, she didn't understand why veganism would be necessary. She became more aware of the animal agriculture industry and decided to make the transition to veganism. 
Being vegan is more than just a diet for Stefanie; it is a lifestyle. Stefanie helps the vegan community through her belief in leading by example. She started Life Veganized as a result of her friends, coworkers and family members' consistent questions and interests over veganism. 
She wondered how many other people that she didn't know who were feeling the same way and felt compelled to share her knowledge and guidance. She now has connections with people from all over the world. Whether it be with simple questions or taking on nutrition clients, she is always there to help. 
Reaping the Rewards
When we asked Stefanie how it feels to be vegan, she said, "It feels amazing! It's one of the best decisions I've ever made. I even have a vegan tattoo. There's no way I'll ever go back!" 
Now, this is what we call dedication! 
She says living vegan is not a challenge once you have mastered the art of it. She reassures those who are just beginning their journey that it gets easier along the way. 
Stef says, "It's the most rewarding thing I do regularly, and I tell other vegans this as well – no matter what kind of day you're having, you are making the world a better place every day just by continuing to be vegan."
Stef Shares Tips
Although Stef believes being vegan is easy once you get into the swing of things, she still faces occasional challenges.
The biggest piece of advice that she has for those who are just starting off on their journey is not to worry about the opinions of others who may not be supportive of your decision to go vegan. 
She says, "Your vegan life is what you make it. It helps that society, in general, is way more accepting of veganism than it was when I first went vegan, but also, the way you demonstrate your veganism really affects how others perceive it a lot of the time." 
Her best piece of advice: "If you come across any challenges, don't give in to them. Act as if being vegan is not difficult, and you will be successful in your journey. Life is 10% what is thrown at us and 90% how we react. If you're sulking at a family get-together because no one made you a vegan option, it could seem that veganism is restrictive and miserable. But if you bring a delicious vegan dish, and/or confidently, respectfully, and simply say "no, thank you" to the non-vegan options, it is more likely to seem that veganism isn't very difficult at all." 
Stefanie believes  that going vegan will change your outlook on life in ways that you didn't even think of.
Vegan Go-Tos
Stef's favorite vegan food is pizza! Now that's what we are talking about! Who doesn't love pizza? Of course, because she can't have pizza every night of the week, she also gave us a second answer and said that she's been really loving quinoa bowls recently as they are a nice warm comfort food, and she can switch them up with different choices of proteins, veggies and sauces. For snacks, we were impressed to hear that she enjoys making cheese sauces out of cashews for nachos and such. 
Although Stefanie is able to maintain a very nutrient-dense diet with foods that are rich in B12, she has found that taking a B12 supplement helps support a healthy vegan lifestyle. Stef says, "Supplements can be a great addition to a vegan diet though, for those who need or want it!" 
We agree completely! 
Vegan Life Nutrition is proud to be a part of so many vegan journeys.  We don't sacrifice quality for innovation. Our products are always free of toxins, allergens, and unnecessary ingredients. How? We strictly examine raw ingredients and fully-vet each final product. Quality is our top consideration, and we adhere to the guidelines of some of the toughest regulatory authorities in the world.
Would you like to share your Vegan Journey with us?  Provide your contact information below, and we will reach out to you.