At Vegan Life Nutrition, our goal is to provide the vegan community with plant-based products good for your body. We believe that when you make conscious decisions about what you are allowing into your body and the world, you are able to make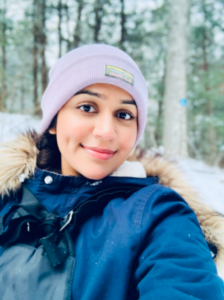 empowered decisions throughout your life's journey. Living a vegan lifestyle empowers you to
make positive life choices that impact your body, the overall quality of your life and the world.
We would like to introduce you to a member of the vegan community who has embraced the feeling of vegan empowerment!
Empowering Lifestyle
Isbah is a 23-year-old Kashmiri-Pakistani who grew up in Houston. Today, she spends her time as a teacher and an explorer, which has helped push her to experience new things and inspire others in the vegan community. 
She became vegan in March of 2015 after witnessing the injustice brought upon animals and decided to make the change. Isbah says, "Embracing my vegan lifestyle is truly one of the most empowering aspects of my life." 
She feels better physically and morally, which has given her a sense of empowerment and inspired her to live life to the fullest. Isbah is big on adventure and says that she feels the most relaxed when she is outdoors and can explore her surroundings.
Being vegan doesn't stop her from living her best life. While many people believe that living a vegan lifestyle is difficult due to certain limitations, Isbah says that  veganism has given her the opportunity to venture into new types of foods, some she previously had never heard of. "From fruits and lentils to vegetables around the world, vegan foods are abundant everywhere."
Vegan adventure
The best way that Isbah helps both her students and others in the vegan community is by leading by example. In her experience, she feels that she has encouraged people around her to be more vegan-friendly by continuously embracing the vegan lifestyle and everything that it has to offer. It's about showing people that being vegan is not about limiting yourself but about enjoying life at a greater capacity. 
When you have more energy, and you feel better physically, you are able to live your life to the absolute fullest. Isbah also strives to make it an ongoing effort to introduce people around her to all that the vegan community has to offer, such as new vegan restaurants and products. Experiencing new places and new foods is an exciting part of life and this is how she chooses to view her vegan journey: as an adventure! 
Baby steps
She says, "The best advice that I can give to anyone curious about going vegan is to celebrate all of your accomplishments, even minor ones, and to not let your setbacks discourage you." 
One tip she has for those who are struggling to maintain a vegan diet is to start off by implementing vegan products into your life or supporting vegan businesses. This is a great way to meet other vegans in the community to inspire you and to gain new information. "There is much more to embracing a vegan lifestyle than a vegan diet; try every aspect." 
Vegan Life Nutrition has wonderful products for both new and veteran vegans. Just what you need to get you started on your vegan journey or to help you even further along. Vegan supplements are a great way to start!
Vegan Life Nutrition is proud to be a part of so many vegan journeys.  We don't sacrifice quality for innovation. Our products are always free of toxins, allergens, and unnecessary ingredients. How? We strictly examine raw ingredients and fully-vet each final product. Quality is our top consideration, and we adhere to the guidelines of some of the toughest regulatory authorities in the world.
Would you like to share your Vegan Journey with us?  Provide your contact information below, and we will reach out to you.