Although veganism has seen an explosion in support over the last few years, the community was still in its budding stages in the early 2010s. Nearly 10 years later in 2019,after being declared the "year of the vegan," more and more people are making this commitment to their day-to-day health and lifestyle. However some long-time vegans began their journey long before it launched into the mainstream, such as Sonya McDaniel-Goodwin of Charlotte, North Carolina.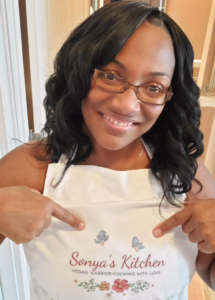 Sonya is a natural green thumb. She loves growing her own food, researching holistic medicine, and introducing others to the vegan journey through delicious recipes and tips. For those interested in veganism, Sonya suggests keeping it simple. Replacing meat with two vegetables that you like, for example, connecting with the broader vegan community on social media, and remaining open to new types of foods are her main tips. 
A vegan journey lasting over a decade
Sonya started her vegan journey nearly 11 years ago in March of 2011 with the "30 Daniel Fast." Since noticing the significant health benefits, Sonya has kept on with her vegan lifestyle. The Daniel Fast is a partial fast, allowing for some eating – it's the food groups involved that distinguish it. Whole grains, beans, legumes, vegetables, seeds, fruits, and nuts are all allowed, while animal products such as fish, meat, eggs, and dairy are prohibited. Other restricted items include caffeine, any artificial sweeteners, yeast, deep-fried meals, and processed foods. 
Around a year ago, shortly after starting her vegan journey, Sonya was diagnosed with Lupus. However her diagnosis didn't keep her from tending to work, personal projects, and her social life. She credits clean, plant-based eating for her newfound health in the face of Lupus, which speaks on how veganism ultimately puts us in greater harmony with our bodies.
A vegan journey to share with the family
Although she's the only vegan in her home, Sonya's dishes are a hit with the family. She admits that it's been her toughest challenge in continuing on with the vegan journey, as she has little support to remain vegan. However, being the foodie she is, Sonya puts her own spin on family dinners. 
The McDaniel-Goodwin dinner menu is diverse and multicultural, full of dishes from around the world. It can be easy to forget that veganism doesn't necessitate bland meals or an absence of fun, as many people assume. With the right combination of ingredients, flavors, and spices, vegan dishes can be just as delicious as any traditional meal. 
Looking at Sonya's journey, it's evident that the vegan lifestyle not only keeps us in tune with our bodies, but is able to taste just as good as the traditional meals many are used to. 
Vegan Life Nutrition is proud to be a part of so many vegan journeys.  We don't sacrifice quality for innovation. Our products are always free of toxins, allergens, and unnecessary ingredients. How? We strictly examine raw ingredients and fully-vet each final product. Quality is our top consideration, and we adhere to the guidelines of some of the toughest regulatory authorities in the world.
Would you like to share your Vegan Journey with us?  Provide your contact information below, and we will reach out to you.