Marine phytoplankton gummies vs. capsules vs. liquid: What's best for me?
Marine phytoplankton are microscopic algae that grow naturally in the ocean and serve as a food source for a wide variety of marine creatures. They contain a much more diverse range of micronutrients than can be found in plants that grow in the ground, and there is a lot of excitement surrounding the potential benefits of these nutrients on human health.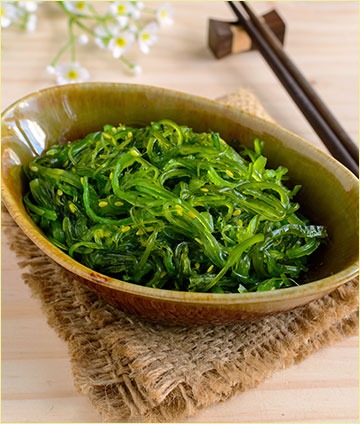 Though still in the early stages, research indicates that certain compounds in marine phytoplankton may indeed be very beneficial to the body: "Phytoplankton is an exceptional source of a variety of bioactive compounds. Among them, pigments and lipids are recognized to have numerous positive effects on health."1
Anecdotal evidence of these positive effects can be seen in the Japanese population, who traditionally consume quite a bit of sea plants. "While dietary soy was long credited for the low rate of cancer in Japan, this indicator of robust health is now attributed to dietary seaweed."2 (Note: in the article, marine plants and algae as a group are referred to as seaweed.)
What sets our product apart from the rest
Our proprietary blend of nutrient rich marine phytoplankton is unique in that it's not farmed but wild-caught off the coast of Vancouver, Canada. Harvesting it directly from the ocean ensures that it contains all of the beneficial compounds of a sea plant. To ensure bioavailability, we designed a patented process that ruptures the cell wall, so that the nutrients in the supplement are accessible. And we've created three different supplement options to suit your needs.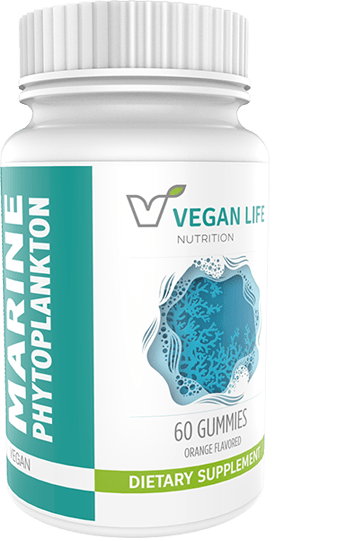 Gummies, capsules, or liquid?
Marine Phytoplankton Gummies from Vegan Life Nutrition have a pleasant orange flavor and are easy to take. They're a particularly good option for kids, who have a hard time swallowing capsules. They may think of their supplement as "candy," but as a parent, you can rest easy. One serving contains less than a single gram of added sugar.3
Our marine phytoplankton capsules contain a full serving of the proprietary Alpha 3 CMP formulation, a blend of the most beneficial marine phytoplankton in the sea.
You can also select the liquid marine phytoplankton option. If you or your child prefers to add it to your favorite drink or drop a 1 ml serving onto your cereal in the morning, liquid marine phytoplankton may be the way to go.
In the end, it's all about personal choice. One serving of any of the three Vegan Life Nutrition marine phytoplankton supplements provides a full day's supply of nutrient-rich ingredients directly from the ocean. And like all of Vegan Life Nutrition's quality products, they are made from the cleanest organic ingredients and are 100% vegan.
---
References
1 Heydarizadeh, Parisa & Poirier, Isabelle & Loizeau, Damien & Mimouni, Virginie & Schoefs, Benoit & Bertrand, Martine, 2013, Plastids of Marine Phytoplankton Produce Bioactive Pigments and Lipids, National Center for Biotechnology Information, U.S. National Library of Medicine.
2 2018, What is seaweed?, Oceanservice.noaa.
3 Please remember that all nutritional supplements should be kept out of the reach of children.

NOTE: The NCBI, National Ocean Service, National Oceanic and Atmospheric Administration and Department of Commerce, have not reviewed or approved the above article.